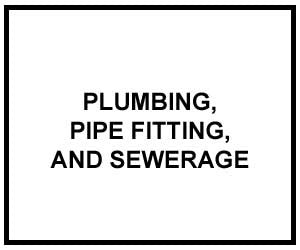 Combat Index Data Store
FM 3-34.471: PLUMBING, PIPE FITTING, AND SEWERAGE
Official US Army Field Manual in Acrobat PDF file format.


This manual is a guide for engineer personnel responsible for conducting plumbing and pipe fitting operations. This manual provides information on water, waste, and heating systems and basic plumbing techniques. Use this guide to help repair fixtures, leaky pipes, and valves; to make pipe joints; to install water, waste, and heating systems; and to test and service these systems.
Plumbers install and repair water systems, waste systems, and fixtures; cut, ream, thread, and bend pipes; and caulk, solder, and test joints or systems for leaks.
Users of this manual should be familiar with the tools used by the construction military occupational specialty (MOS) in career management field (CMF) 51. This manual provides information on utility plans and drawings to include bill of materials (BOM) and standard plumbing and heating symbols; plumbing materials and procedures; sewerage, water supply, and heating installation; insulation material; and pumps. The entire pattern for soldiers in CMF 51 is described in Department of the Army (DA) Pamphlet 611-21.

File download size: 3.2 MB
---
More from this collection