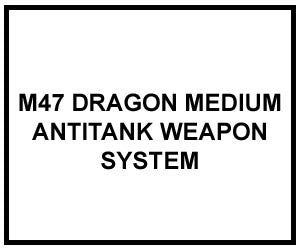 Combat Index Data Store
FM 3-23.24: M47 DRAGON MEDIUM ANTITANK WEAPON SYSTEM
Official US Army Field Manual in Acrobat PDF file format.


This manual provides guidance for using and employing the M47 Dragon, a mediumrange, antiarmor, surface-attack, guided missile weapon system. It provides information about the M47 Dragon's characteristics, nomenclature, and functions. The training program provided helps develop, evaluate, and maintain the proficiency of Dragon gunners. Tactical employment procedures described herein do not cover all situations.
Leaders and members of units equipped with the M47 Dragon should use this manual to train and test individual gunners or teams. This manual also discusses five key elements for maintaining combat proficiency with the Dragon:
• Technical and tactical information.
• A training program that stresses command involvement.
• Centralized training.
• Gunner selection.
• Development of qualified trainers.

File download size: 6.8 MB
---
More from this collection