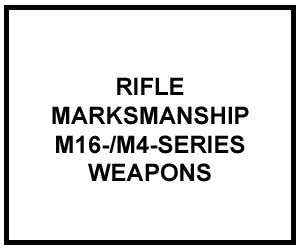 Combat Index Data Store
FM 3-22.9: RIFLE MARKSMANSHIP M16-/M4-SERIES WEAPONS
Official US Army Field Manual in Acrobat PDF file format.


This manual provides guidance for planning and executing training on the 5.56-millimeter M16-series rifle (M16A1/A2/A3/A4) and M4 carbine. It is a guide for commanders, leaders, and instructors to develop training programs, plans, and lessons that meet the objectives or intent of the United States Army rifle marksmanship program and FM 7-0.
This manual is organized to lead the trainer through the material needed to conduct training during initial entry training (IET) and unit sustainment training. Preliminary subjects include discussion on the weapon's capabilities, mechanical training, and the fundamentals and principles of rifle marksmanship. Live-fire applications are scheduled after the Soldier has demonstrated preliminary skills.
This manual was revised to include references to new materiel and systems. This revision includes—
ô€?º The new Army total marksmanship training strategy, to include specific strategies for the United States Army Reserve (USAR) and the Army National Guard (ARNG).
ô€?º Information about the advanced combat optical gunsight (ACOG), the AN/PEQ-15 advanced target pointer/illuminator aiming light (ATPIAL), various thermal sights, and the MK 262 round.
ô€?º Information about the alternate qualification record fire courses (known distance [KD] record fire, 25-meter scaled target alternate course, 15-meter scaled target alternate course).
ô€?º Information about the rapid magazine change and barricade transition fire for short-range marksmanship (SRM).
ô€?º Changes to all of the scorecards.
ô€?º Updated terminology.

File download size: 18 MB
---
More from this collection