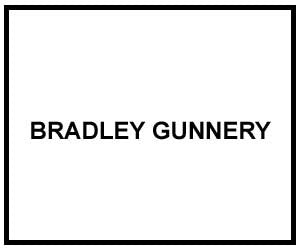 Combat Index Data Store
FM 3-22.1: BRADLEY GUNNERY
Official US Army Field Manual in Acrobat PDF file format.


This manual explains Bradley system gunnery doctrine and techniques. Operator's manuals cover everything else. Where procedures conflict, the readers should follow the ones in the technical manuals, because they can obtain priority updates for them.
Except as noted, this text refers not to published editions of ARTEPs, but to those posted in March 2000 (or later) to the Reimer Digital Library (RDL).
Every person who works in any way with BFVs should have access to this manual: commanders, staff, master gunners, and leaders at all levels. With it, they can develop gunnery programs to sustain combat readiness.
The crewmember will find specific information, but training managers and master gunners will find the information they need to develop BFV training. This includes--
• M2 and M3 Bradley gunnery theory, methods, and techniques.
• System features and capabilities.
• Gunnery training and evaluation at all levels.

The first eight chapters apply to all Bradleys. Subsequent chapters provide training strategies and advanced gunnery by MOS.

File download size: 20.9 MB
---
More from this collection