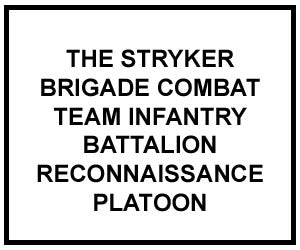 Combat Index Data Store
FM 3-21.94: THE STRYKER BRIGADE COMBAT TEAM INFANTRY BATTALION RECONNAISSANCE PLATOON
Official US Army Field Manual in Acrobat PDF file format.

This manual is based on the premise that although the unit organization, weapon systems, and conditions have changed, section and platoon maneuver, movement, reconnaissance, and surveillance have not.

This manual describes the doctrinal and tactical employment principles for the Stryker reconnaissance vehicle (RV)-equipped infantry battalion reconnaissance platoon, which is an element of the Stryker brigade combat team (SBCT). It provides emerging doctrine, tactics, techniques, and procedures (TTP) for the SBCT infantry battalion reconnaissance platoon and its teams and sections.

This manual provides the platoon and team leaders with tactics, techniques, and procedures to exploit reconnaissance platoon capabilities through situational understanding (SU), which will reduce vulnerabilities and enable the parent unit to obtain the required information to defeat the enemy on the battlefield. Although this manual reemphasizes critical information from other manuals, the user must continue to refer to other manuals for in-depth discussions of particular subjects.

File download size: 46 MB
---
More from this collection