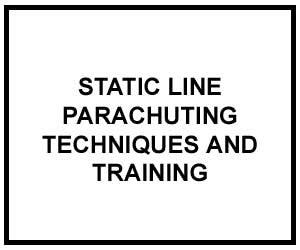 Combat Index Data Store
FM 3-21.220: STATIC LINE PARACHUTING TECHNIQUES AND TRAINING
Official US Army Field Manual in Acrobat PDF file format.


This manual contains basic and advanced training and techniques for static line parachuting. It is designed to standardize procedures for initial qualification and training of personnel in their duties and responsibilities in airborne operations. The jumpmaster, assistant jumpmaster, safeties, DACO, DZSTL, and DZSO occupy key positions in airborne operations. This manual contains the initial training and qualifications of the personnel designated to occupy these critical positions.
SOF unit personnel must meet the requirements for static line parachuting contained in this manual as well as provide special training and instruction for nonstandard equipment, aircraft, and personnel procedures.

File download size: 14.6 MB
---
More from this collection