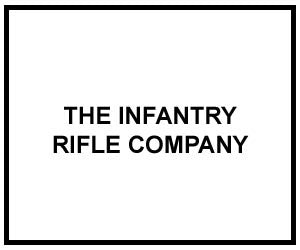 Combat Index Data Store
FM 3-21.10: THE INFANTRY RIFLE COMPANY
Official US Army Field Manual in Acrobat PDF file format.

Rather than providing rote solutions, this manual provides a doctrinal framework of principles; tactics, techniques, and procedures (TTP); terms; and symbols for the employment of the Infantry rifle company. This framework will help Infantry rifle company leaders effectively--
* Exploit capabilities unique to the Infantry.
* Reduce the vulnerability of the unit.
* Plan and conduct full-spectrum operations.
* Accomplish their missions in various tactical situations, from stability and civil support to high-intensity combat.
* Win on the battlefield.

The Infantry companies of the SBCT and HBCT mostly use the same doctrine, but cover more specific doctrine in their own manuals.

The main target audience for this manual includes Infantry rifle company commanders, executive officers, first sergeants, platoon sergeants and platoon leaders. Military instructors, evaluators, training and doctrine developers will also find it useful, as will other Infantry company commanders (HHC and weapons company), Infantry battalion staff officers, service school instructors, and commissioning source instructors.

File download size: 27.5 MB
---
More from this collection