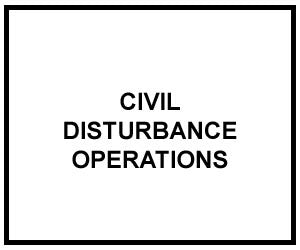 Combat Index Data Store
FM 3-19.15: CIVIL DISTURBANCE OPERATIONS
Official US Army Field Manual in Acrobat PDF file format.



Field Manual (FM) 3-19.15 addresses continental United States (CONUS) and outside continental United States (OCONUS) civil disturbance operations. Today, United States (US) forces are deployed on peacekeeping, peace enforcement, and humanitarian assistance operations worldwide. During these operations, US forces are often faced with unruly and violent crowds intent on disrupting peace and the ability of US forces to maintain peace. Worldwide instability coupled with increasing US military participation in peacekeeping and related operations requires that US forces have access to the most current doctrine and tactics, techniques, and procedures (TTP) necessary to quell riots and restore public order.

In addition to covering civil unrest doctrine for OCONUS operations, FM 3-19.15 addresses domestic unrest and the military role in providing assistance to civil authorities requesting it for civil disturbance operations. It provides the commander and his staff guidance for preparing and planning for such operations. The principles of civil disturbance operations, planning and training for such operations, and the TTP employed to control civil disturbances and neutralize special threats are discussed in this manual. It also addresses special planning and preparation that are needed to quell riots in confinement facilities are also discussed.

In the past, commanders were limited to the type of force they could apply to quell a riot. Riot batons, riot control agents, or lethal force were often used. Today, there is a wide array of nonlethal weapons (NLW) available to the commander that extends his use of force along the force continuum. This manual addresses the use of nonlethal (NL) and lethal forces when quelling a riot.



File download size: 4.5 MB
---
More from this collection