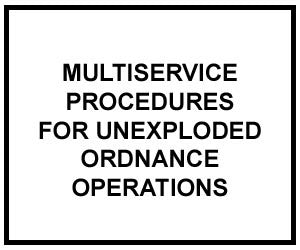 Combat Index Data Store
FM 3-100.38: MULTI-SERVICE TACTICS, TECHNIQUES, AND PROCEDURES FOR UNEXPLODED EXPLOSIVE ORDNANCE OPERATIONS
Official US Army Field Manual in Acrobat PDF file format.


This multi-Service tactics, techniques, and procedures (MTTP) publication provides commanders and their units guidelines and strategies for operating with unexploded explosive ordnance (UXO) hazards, while minimizing the impact of these hazards on friendly operations. This publication will facilitate coordination, integration, and force protection requirements regarding UXO during joint exercises, contingencies, or other operations. It also identifies functions and responsibilities for planning, reporting, tracking, and clearing UXO, while minimizing the impact of UXO on the mission.
This MTTP publication describes the UXO threat and provides guidelines to minimize the impact of UXO hazards. It provides warfighting personnel at the operational and tactical levels with information to optimize UXO safety and to increase efficiency, while reducing or eliminating losses of personnel and equipment to UXO hazards.

File download size: 0.5 MB
---
More from this collection